Interest Form
Interested in participating in the Miss Butte County Scholarship Program. Complete the form below and the Program Director will reach out with more information on how to get involved.
The Miss Butte County Scholarship Competition provides an opportunity to enhance your personal development in the areas of poise, self-confidence, communication skills, and good sportsmanship. All contestants can enjoy participating in the event and receive a memento of the competition. It will be a memorable learning experience for those who challenge themselves by being a participant. The competition is not a beauty contest, but rather a program that fosters community service and personal development through the various areas of competition.
The program began around 1960 with the Golden Feather Girl. About 1966, the program name was changed to Miss Butte County. The program experienced many changes as society always does. During the 1990's the infamous "bathing suit" competition was removed as a phase of competition in hopes to change the façade of a "Beauty Pageant."
In 2004, the Butte County Fair Board voted to change the name of the program to mirror the California State program to "Miss Butte County Scholarship Competition."
The Miss Butte County Scholarship Competition consists of the following programs:
Future Missette: K, 1st, 2nd Grade
Missette: 3rd, 4th, 5th, 6th Grade
Teen: 7th, 8th, 9th, 10th Grade
Miss: 11th, 12th Grade, up to 20 years of age but cannot turn 21 during their reign
Each contestant is judged on personality in their interview, personal introductions (speech), talent and impromptu question. The Miss Teen and Miss divisions also have a community service requirement.
These young ladies who are selected to represent our great county of Butte as a titleholder, they have one year to wear their crown and experience personal growth like none other. During their reign as a Queen, 1st Runner-Up, or Congeniality, they have the opportunity to participate in community service activities while promoting the Program and the Butte County Fair. During these events, they will learn what it means to get their hands dirty, meet new people and grow into a more well-rounded individual.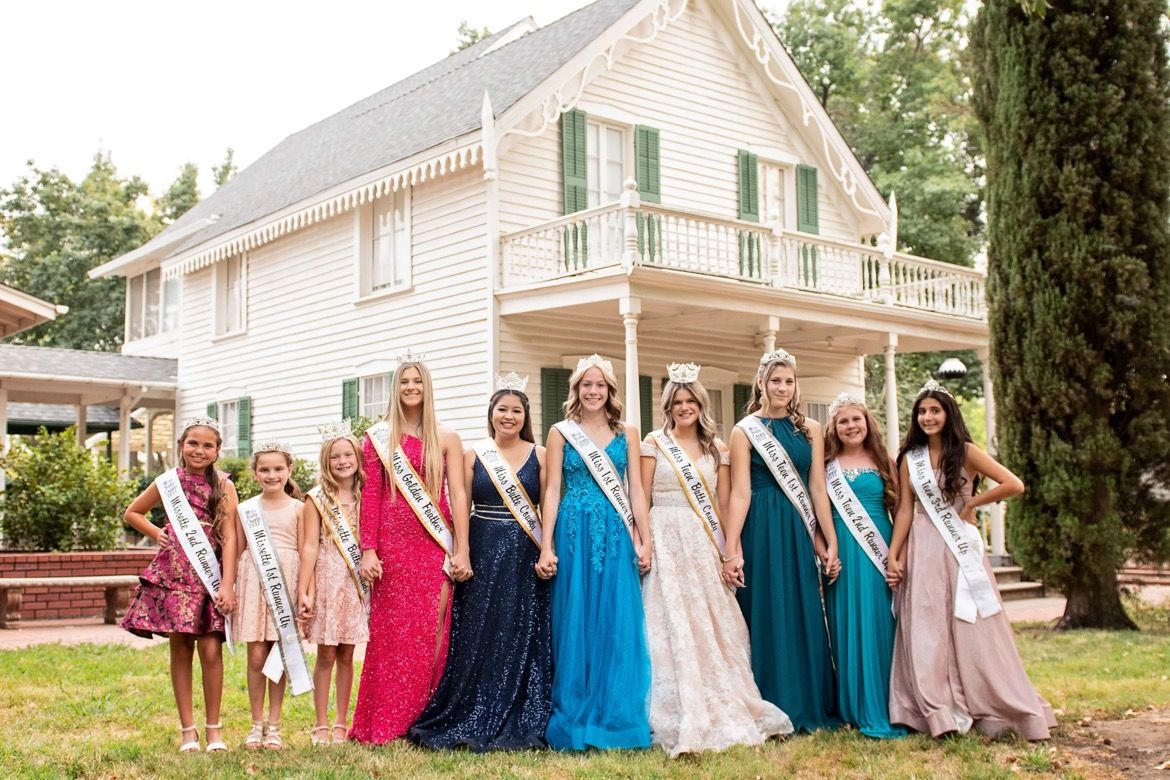 2022 Royal Court
Missette 2nd Runner Up: Cadence Kuykendall, Missette 1st Runner Up: Josielynn Payan, Missette Butte County: Olivia Tomlinson, Miss Golden Feather: Madison White, Miss Butte County: Jenny Hernandez, Miss 1st Runner Up: Maddie Garcia, Miss Teen Butte County: Bella Warren, Miss Teen 1st Runner Up: Isabella Bastiani, Miss Teen 2nd Runner Up: Emily Danner, Miss Teen 3rd Runner Up: Ali Khan