About Us
The Miss Butte County Scholarship Program is a community service based organization that fosters invaluable personal and professional skills in its participants. While empowering the youth of Butte County, the program also teaches how to give selflessly to the community.
Our contestants participate in multiple training seminars, referred to as Competition Camps. These Competition Camps teach public speaking, speech making, resume building, interview skills, the ability to formulate their thoughts quickly and efficiently on the spot, leadership, poise, communication, sportsmanship, and confidence. Not only will these skills prepare them for the rigorous competition, but also for many facets of their future endeavors.
Once crowned, our Royal Court participates in approximately 40 community events throughout Butte County and surrounding counties. The goal of almost every event is service above self.
History
The program began around 1960 with the Golden Feather Girl. About 1966, the program name was changed to Miss Butte County. The program experienced many changes as society always does. During the 1990's the infamous "bathing suit" competition was removed as a phase of competition in hopes to change the facade of a "Beauty Pageant.". To this day, the competition has no phases of competition that score on beauty.
In 2004, the Butte County Fair Board voted to change the name of the program to mirror the California State program to "Miss Butte County Scholarship Competition."
Betsy Oliver was a mom, director, and friend to Miss Butte County. After her passing in 2021, a special award named the Betsy Award was created in her memory. The recipients of this award are selected by their fellow contestants for being encouraging, supportive, humorous, inspiring, mischievous, warm, loving, genuine, exuberant, caring, a mentor, and a best friend.
In 2023, The Butte County Fair Board created a Miss Butte County Advisory Committee. This sub-committee serves to work alongside the director to create policy to ensure the safety and positive experience of all involved in the program.
The Miss Butte County Scholarship Competition consists of the following programs:
Each contestant is judged on Resume, Interview, on stage Speech, and on stage Impromptu Question. They also participate in a fun, on stage Personal Introduction which is not judged.
All contestants receive an award for the area in which they scored highest. The contestants also vote for which contestant in their age category will be the recipient of the Betsy Award.
There are currently four age categories:
Future Missette (non-competitive)
Missette
Teen
Miss
Find Out More About Our Program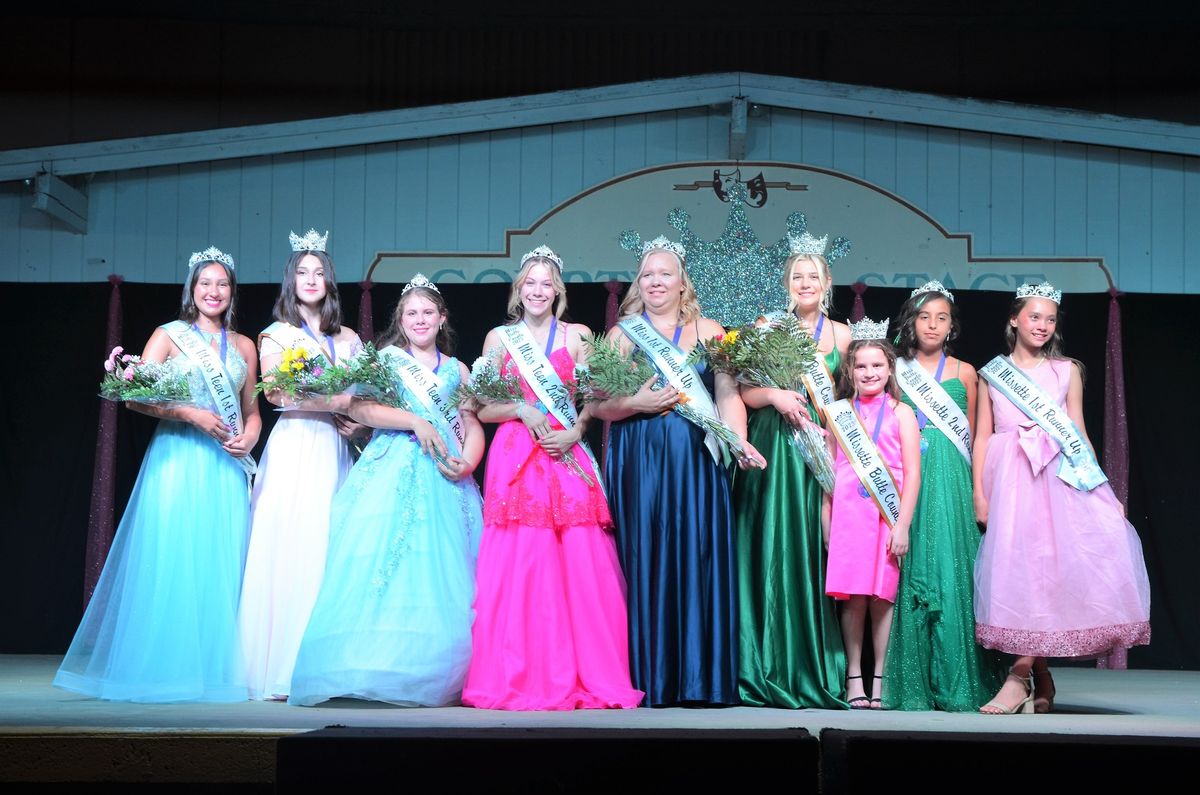 2023 Royal Court
Miss Butte County-Makayla Mellinger, Miss 1st Runner Up-Savannah Arcangeli, Miss Teen Butte County-Maizy Miller, Miss Teen 1st Runner Up-Gracie Yost, Miss Teen 2nd Runner Up-Maddie Garcia, Miss Teen 3rd Runner Up-Emily Danner, Missette Butte County- Josielynn Payan, Missette 1st Runner Up-Katherine Weiss, Missette 2nd Runner Up-Ava Cote